[Fiction] Friday Challenge for September, 14 2007:
Write a story, poem, or essay from the point of view of an inanimate object.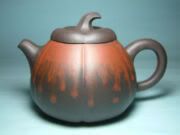 Hello there! I'm Chinese teapot made by a master potter near the town of Yixing in China. That is why I am called Yixing teapot. I was shipped to Chinese tea emporium in Montreal Canada. I sat on shelf for many months while customers made big fuss over more fancy Yixing teapots then myself.If you are familiar with Yixing teapots you know that they can look like tree stump or have dragons and monkeys on them or shaped like flowers or vegetables. Many styles. I 'Little Melon' teapot. They no understand my simple beauty. All Yixing made by hand. It take many hours to make one. The best Yixing teapots made with Zisha, purple sand, clay. I made with two clay. One Zisha and also with Zhuni, reddish brown, clay. This is what makes me so special but no one understand until one day my present owner come to shop and recognize my beauty.

My present owner understand because he is potter himself and able to see the beauty in my simplicity. My perfect handle. My equally perfect spout and my blend of two clay. He buy me and take me home and even though he not Chinese man he know how to cure me so I can make delicious tea. He put me in a pot and cover me with water and add special High Mountain Oolong tea that he love to drink. He bring pot to slow boil for one hour, then let me sit in pot until tea is cold. He take me out, dry me and now I am ready to be used. My owner brewed his favorite tea in me for eight years. My pores are so full of the taste and aroma of the High Mountain tea my owner only has to add boiling water to me to make tea I am very special teapot.

Not all owners use their teapots. Some collect them and put them on shelf to admire and show off to friends. My owner keeps me in his studio and uses me every day. he say to me Lttle melon your beauty inspires and your tea relaxes me. It's true! I no make this up. He say that. I feel special feeling. I happy I no showoff teapot on shelf. I happy I please master.