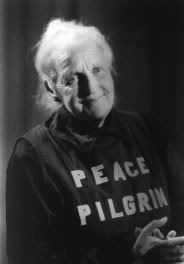 In Jan. 1953 she walked out of Pasadena California ahead of the Rose bowl parade and continued walking across North Amaerica spreading her message of peace and for 28 years she kept walking, with just the clothes on her back, a toothbrush and a comb, she passed through all 50 states and the 10 Canadian Provinces speaking to anyone who would listen, spreading her message. She was known only as Peace Pilgrim.

It was printed on the front of her tunic and on the back she recorded the number of miles she walked...She stopped counting at 25,000. She printed it there to draw attention to her mission, so people would stop and talk. Twenty-five thousand miles in twenty-eight years. A woman led by her Faith and convictions.

She did not eat unless people offered her food. she fasted once for 55 days. She slept outside unless people offered her shelter which I assume became less frequent as she became better known but still it must have been extremely difficult in her early years...not that she ever complained.

Why this picture? you ask. Because with all the attention we give to Music Idols, Movie Stars and Sport Phenoms who make gazzilions of dollars entertaining us or taking our attention away from what is really important. Finding Inner Peace. Peace believed that true peace on Earth would not be accomplished until we attained our own Inner peace. Until our needs and our wants are the same. We on the other hand focus on inner turmoil, believing that's who we really are and wishing we were some where or someone else. We never really try and find our true purpose or our true self.

Whenever I feel so hard done by and begin crying poor, poor pitiful me or so full of myself, thinking that I'm the greatest thing since sliced bread. I stumble on to my bookmarks and visit Peace. If I admire anyones accomplishments in this world, I admire hers. PEACE be with YOU!